BRETT
HEEGER
Associate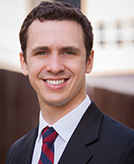 EDUCATION
Harvard Law School
(J.D. cum laude, 2014)
Brown University
(B.A. magna cum laude, 2008)
BAR ADMISSIONS
California
PROFESSIONAL EXPERIENCE
Brett Heeger focuses on transactional corporate and securities matters in addition to supporting the firm's litigation and regulatory investigation work. He has experience assisting with multiple financings, acquisitions, and joint ventures. He has also worked with clients to find the best legal structure, build partnership opportunities, and structure financing opportunities to achieve optimal growth.
Passionate about the contribution of small businesses to sustainable economic development, Mr. Heeger is dedicated to supporting businesses from inception through each phase of growth. Prior to joining the firm, Mr. Heeger served as Food System Director at The Enterprise Center-CDC where he supported local food enterprises in Philadelphia with business advising and technical support. In law school, he co-founded the Community Enterprise Project, a clinical program where students engage in transactional law projects in support of under-served communities across Boston. From 2012 – 2014, Mr. Heeger led projects and case teams in areas such as not-for-profit organization governance, food truck permitting and development, and urban agriculture.
Mr. Heeger enjoys engaging in the communities in which he lives and works. He currently serves on the Planning and Land Use Management Committee of the Central Hollywood Neighborhood Council.
PUBLICATIONS
"Cooking Up Success: The Enterprise Center-CDC and Leveraging the Food Industry for Community Development," Philadelphia Social Innovations Journal (December 2014).
"Many Advocates, One Goal: How Lawyers Can Use Community Partnerships to Foster Local Economic Development," Brett Heeger & Amanda L. Kool, American Bar Association, Community Economic Development Committee Newsletter (Spring 2014).